My Thoughts: Fighting Words by Kimberly Brubaker Bradley
Many of you have probably read The War That Saved My Life or have at least heard of it. It is a powerful and beautiful story of World War II and is a favorite among our middle schoolers.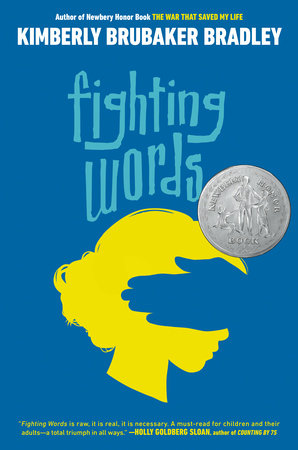 So, when I heard Kimberly had a new book, I IMMEDIATELY went to NetGalley and requested! I am so glad I was able to get it and I DEVOURED this book. I will caution my sixth grade readers-this book deals in some tough stuff and there is a point in the book that was really hard for me to read. So, talk with the adults in your home first.
Here is a summary from Penguin Random House:
A candid and fierce middle grade novel about sisterhood and sexual abuse, by Newbery Honor winner and #1 New York Times best seller Kimberly Brubaker Bradley

"Fighting Words is raw, it is real, it is necessary, a must-read for children and their adults–a total triumph in all ways." –Holly Goldberg Sloan, New York Times bestselling author of Counting by 7s

Ten-tear-old Della has always had her older sister, Suki: When their mom went to prison, Della had Suki. When their mom's boyfriend took them in, Della had Suki. When that same boyfriend did something so awful they had to run fast, Della had Suki. Suki is Della's own wolf–her protector. But who has been protecting Suki? Della might get told off for swearing at school, but she has always known how to keep quiet where it counts. Then Suki tries to kill herself, and Della's world turns so far upside down, it feels like it's shaking her by the ankles. Maybe she's been quiet about the wrong things. Maybe it's time to be loud.

In this powerful novel that explodes the stigma around child sexual abuse and leavens an intense tale with compassion and humor, Kimberly Brubaker Bradley tells a story about two sisters, linked by love and trauma, who must find their own voices before they can find their way back to each other.

"Believable and immensely appealing…At once heartbreaking and hopeful." –Kirkus (starred review)
"One of the most important books ever written for kids." –Colby Sharp of Nerdy Book Club
"Gripping. Life-changing. Essential." –Donna Gephart, author of Lily and Dunkin
"Compassionate, truthful, and beautiful." –Elana K. Arnold, author of Damsel
"I am blown away. This is a powerful, necessary book…[It] may be Kimberly Brubaker Bradley's best work yet." –Barbara Dee, author of Maybe He Just Likes You
"One of the best of the year." –Betsy Bird for A Fuse #8 Production/SLJ
"A book that lets [kids] know they have never been alone. And never will be." –Kat Yeh, author of The Truth About Twinkie PieSEE LESS
What I Loved About This Book
It covers some tough topics, including abuse, and deals with trauma from that experience. It shows how to get through that trauma and that you can find yourself after something terrible happens to you.
This book tells a story of two sisters trying to find themselves and their voices after being thrown into foster care. I loved the dynamics of the two girls and how powerful their bond was.
Short chapters-I just kept turning pages!
This book does cover topics that need to be discussed and I feel so thankful that I got to read it early. Look for this book on August 11 or preorder here.